Arunreas Hotel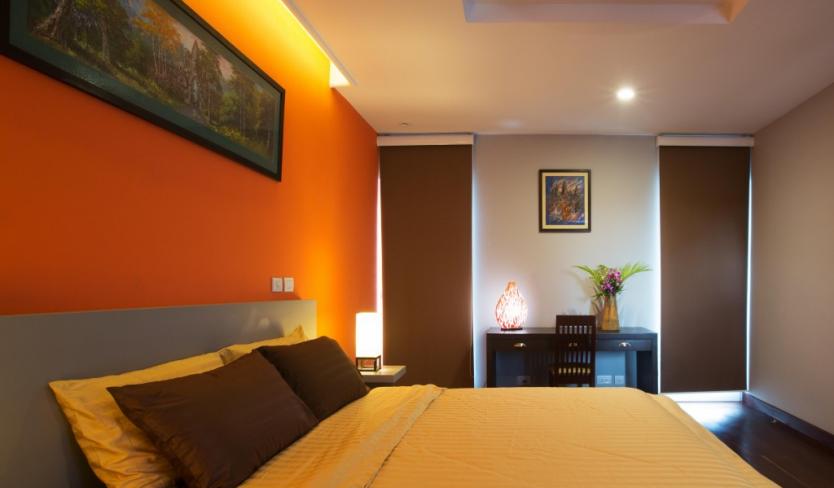 Nestled in the heart of Phnom Penh, Arunreas Hotel strikes a stunning pose with its crisp white façade, ornamental urns and flowering frangipanis. From the moment you enter the beautiful carved wooden doors you will be comforted by Arunreas's ambiance. Warm and friendly staff, stylish rooms and suites, decadent bathrooms and exquisite cuisine come together to redefine Cambodia's luxury hotel experience.
Stay at Arunreas Hotel, discover Phnom Penh
Conveniently located, Arunreas Hotel Phnom Penh is the perfect choice for guests wishing to explore the city by foot, just minutes from city's iconic sights and attractions, trendy bars and cafes and premier shopping locales. Our services have also been tailored for business travellers, featuring free high-speed internet and in-room iPhone 6.
Arunreas Hotel room >>
More hotels in Cambodia 
Of course a stay in Phnom Penh is not complete without trying the region's fabulous food. Our Khéma restaurant offers French fine dining in an intimate setting, complemented with a gourmet delicatessen and café. Our award winning sister restaurants - Malis and Topaz are also located nearby.
And once you have been dazzled by the sights, smells and tastes of the vibrant and buzzing city that is Phnom Penh, take the time to retreat to your tranquil oasis and indulge in your very own plunge bath in our Arunreas Majestic and City Grande rooms.
Restaurant
A visit to Phnom Penh is not complete without dining at Topaz Restaurant. Just a five minute drive from Arunreas Hotel, Topaz offers traditional French fare in a refined setting with an exceptional wine cellar.
Restaurant at Arunreas Hotel
Using only the very best of local and imported ingredients, Topaz's experienced chefs have prepared a sophisticated menu following traditional French techniques. From fresh oysters to succulent steaks, champagne to caviar, indulge with your family, friends or business partners over lunch or dinner.
Frequented by celebrities, politicians and members of the Royal Family, Topaz has earned its reputation as the premier restaurant in the capital. Private dining rooms are available for those seeking a more intimate affair.