Gyeongbokgung Palace, South Korea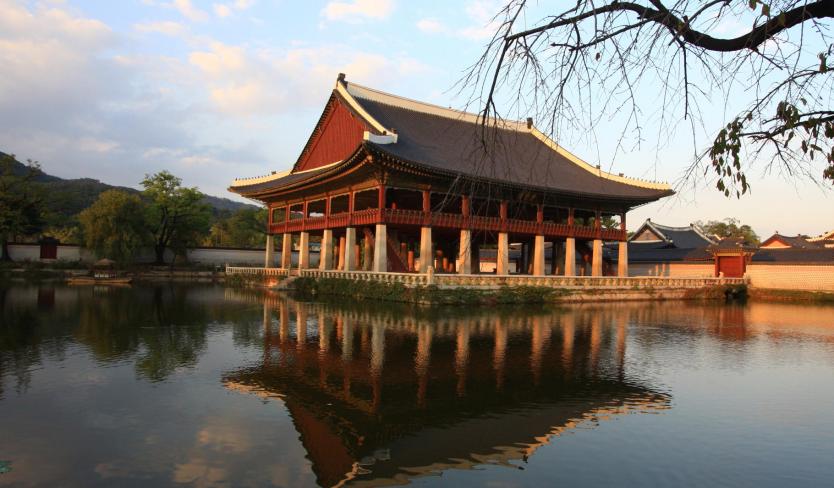 Overview
Built in 1395 by King Taejo, Gyeongbokgung Palace is the largest and most striking of the Five Grand Palaces built during the Joseon dynasty. Today, the grand structure is an iconic landmark in Seoul, where you can experience life in Joseon-era Korea via free guided tours, re-enactments of royal rituals, and extensive displays of artefacts and period costumes.
This historical structure is also known as the Northern Palace, thanks to its location furthest north compared to the neighbouring Changdeokgung (Eastern Palace) and Gyeongheegung (Western Palace). As the main royal palace in South Korea between 1592 and 1598, it houses more than 300 buildings as well as The National Folk Museum and The National Palace Museum.
Gyeongbokgung Palace
High Lights
Visitors can take a relaxing stroll within the palace grounds and marvel at remnants of the Joseon Dynasty such as the Gyeonghoe-ru Pavilion, Hyangwonjeong Pond, and sculptures of Geunjeongjeon (The Royal Audience Chamber), all of which remain relatively intact within the grounds.
Constructed in 1867, Gyeonghoe-ru was built as a royal dining venue for foreign envoys as well as for the king and court officials. Located west of Gangnyeongjeon, it is a picturesque pavilion that's set in the middle of an artificial pond and is connected by three stone bridges stretching out to the complex.
Gyeongbokgung Palace
Another must-visit structure in Gyeongbokgung Palace is the Hyangwonjeong Pond, which is located to the north of the main building. Constructed by order of King Gojong as his informal and private place for rest and leisure in 1873, this hexagonal pavilion is also set on an artificial island and connected to the same grounds by Chwihyanggyo Bridge, which was the longest wooden bridge constructed on a pond during the Joseon Dynasty.
Gyeongbokgung also hosts re-enactments of the Changing of the Royal Guard and the Patrol Ritual, both of which take place daily between 10:00 and 15:00 in front of Heungnyemun (Gate). You can witness traditionally-clad guardsmen performing a number of ceremonies including the opening and closing the royal gate, as well as the changing of the guard. Gyeongbokgung is open from 09:00 till 23:00 and visitors can enjoy free guided tours in English, Japanese and Chinese between 10:00 and 15:30, departing in front of the information centre at Heungnyemun Gate.
Gyeongbokgung Palace Opening Hours: Wednesday – Monday 09:00 – 18:30 Address: 161, Sajik-ro, Jongno-gu, Seoul