Lotus Lake in Taiwan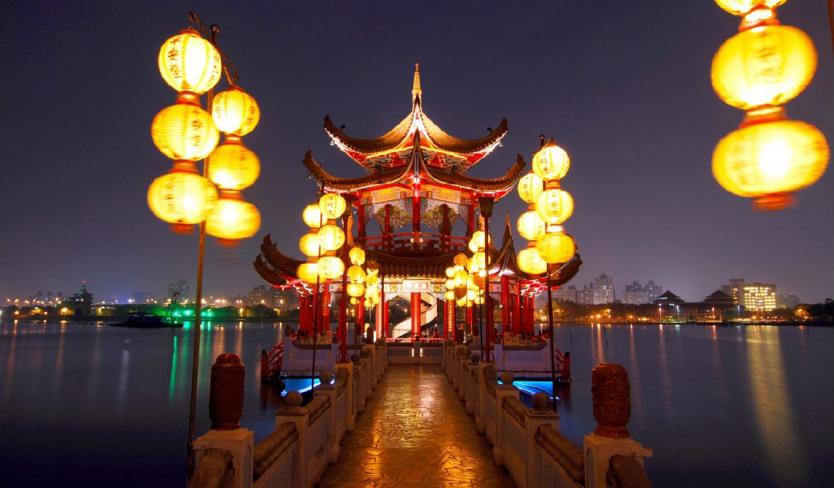 This famous scenic area on the northern outskirts of Kaohsiung City is noted for its profusion of temples, with the Confucius Temple at its northern edge and, in the south, the Dragon and Tiger Pagodas and the Spring and Autumn Pavilions. The lake is most beautiful in the late afternoon, when the setting sun is reflected in the water. Nearby are the ruins of the Fengshan County walls and gates, which have been designated a first-grade historic.
>> Terracotta Warriors of China
Spring and Autumn Pavilions
Two massive pavilions dedicated to Kuan Kung, the God of War, the Spring and Autumn Pavilions were completed in 1951. In front of the pavilions is a statue of Guanyin(Kuanyin), the Goddess of Mercy, riding a dragon. According to legend, Guanyin(Kuanyin) appeared above the clouds riding on a dragon, signifying that believers must erect an image depicting this event between pavilions of summer and autumn: The present-day structures are a result of this vision.
Dragon and Tiger Pagodas
About 700 meters to the south of the Spring and Autumn Pavilions are the Dragon and Tiger Pagodas. The dragon's throat is the entrance and the lion's mouth is the exit. Entering a dragon's throat and coming out a lion's mouth symbolizes turning bad luck to good fortune. Inside, paintings depict China's 24 most obedient sons as well as scenes of heaven and hell to inspire people to do good deeds during their lifetime, and to provide threatening examples of retribution for wrongdoing.
Know Before You Go
By Railway: Take the THSR or TRA train to Zuoying Station, walk about 10 mins.
By MRT: Take MRT Red Line and get off at Ecological District Station, continue by the Bus Red 51 to Lotus Lake stop from Ecological District Station Exit No. 2.
For questions or suggestions, pllease feel free to let us know in the comments section and we'll do our best to reply to them as soon as possible. You can also share this article if you liked it!