Terracotta Warriors of China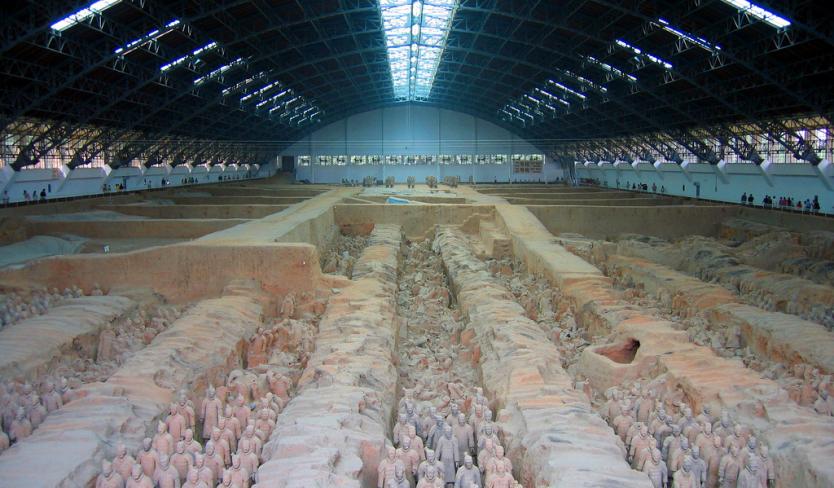 Former French president Jacques Chirac once said: "One can't claim to have visited China unless one has seen these Terracotta Warriors.
Considered to be of the most significant archeological excavations of the 20th century – the Terracotta Warriors and Horses were discovered during the 1970's when local peasants were drilling for water and happened to stumble across a subterranean life-size army of thousands – built to protect Emperor Qin Shi Huang during the afterlife.
Terracotta Warriors of China >>
The whole project is thought to have taken 36 years to complete and involved about 16,000 artisans from several provinces. Like the Tsars of Russia, the Chinese Emperor sacrificed thousands of lives to create visionary projects that have subsequently provided us with some of the most fascinating insights into ancient China.
These include the Great Wall of China, the now famous city-size mausoleum guarded by a life-size Terracotta Army, and a massive national road system. Since the State Council authorised the openings an on site museum in 1975, Xian has firmly established itself as a one of the world's leading archeological attractions, becoming something of a landmark stop on the curious traveller's map.
Terracotta Warriors of China
Getting there
The museum is easily reached by public bus from opposite the Xian train station. The 306 goes via Huaqing Springs. Alternatively, green 'Terracotta' minibuses can be taken from the same place, which are quicker but a little more expensive.
Taxis are available, but be forewarned there is no set meter rate in place so you might end up paying more than you wished to.
The actual army is a good 15-minute walk from the drop-off point. Once there, English-speaking tour guides can be hired from outside, these will walk and talk you round the site for a price.