Bun thang – the elegance of Hanoi cuisine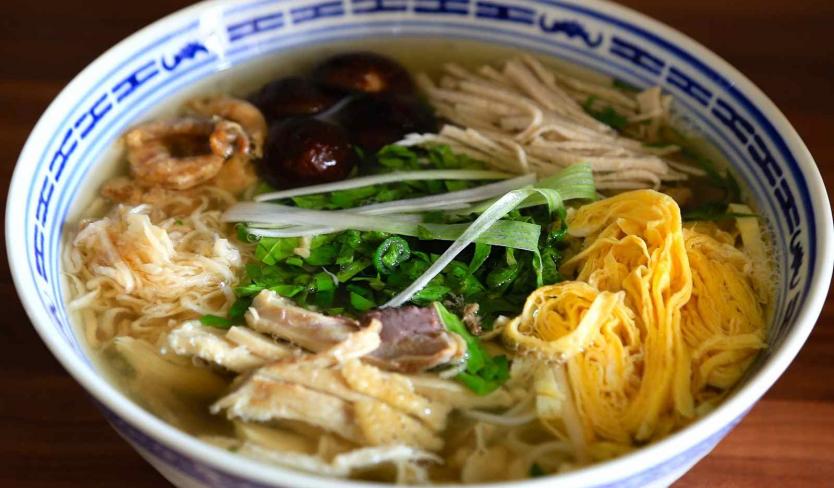 Talking about Hanoi's rice noodle dishes which have captured the hearts of not only Vietnamese gourmets but also many foreign travellers, there are a long list with different names such as Snail rice noodles, Crab rice noodles, Beef rice noodles, etc. Among them, Bun thang (Hot rice noodle soup) has long been considered as a symbolic image of an elegant gift as well as the most delicate dish of Hanoi cuisine.
Bun thang – an elegant gift of Hanoi cuisine
Bun thang has appeared in the food culture of Hanoi capital for a very long time. This well-known rice noodle was originated from a kind of soup named "thượng thang" of ancient capital's people. A bowl of Bun thang contains not less than twenty ingredients including dried shrimp, chicken, Gio lua, egg, onion, a little bit Belostomatid essence and other spices. These main ingredients are traditional foods of Tet holiday, it is said that a resourceful woman can make use of leftover foods to cook a delicious bowl of Bun thang, as a result this dish is a great suggestion for your meal and it also expresses the ingenuity, frugality of Hanoi old women.
Bun thang
If you have a chance to enjoy Bun thang in Hanoi, you will find out that this dish is attractive thanks to both its flavor and its appearance. All the ingredients are skillfully presented on the bowl as an iridescent flower. It will not be completed if we forget to mention "mắm tôm" (shrimp paste) – a special spice that makes bun thang different from a variety of rice noodles in Vietnam. A guest once commented that eating bun thang without shrimp paste like enjoying Pho lacks of broth.
Ingredients for bun thang
Where to eat Bun Thang?
In Hanoi, there are so many address famous with Bun Thang which are highly recommended for foreign travellers to enjoy this popular street food in the capital such as 59 Hang Luoc, Hoan Kiem, Hanoi, 144 D2 Giang Vo, Dong Da, Hanoi or 28 Lieu Giai, Ba Dinh, Hanoi.
Although you can find Bun thang in almost every place in Vietnam, it is one of the most popular yet hidden fares in Hanoi. Enjoying a bowl of Bun thang at a street vendor in Hanoi where there is limited space and you will be surprised as many people can still fit in the two storey old house behind the stall and it is going to be an interesting experience in this unique capital city.