Gong Bao Chicken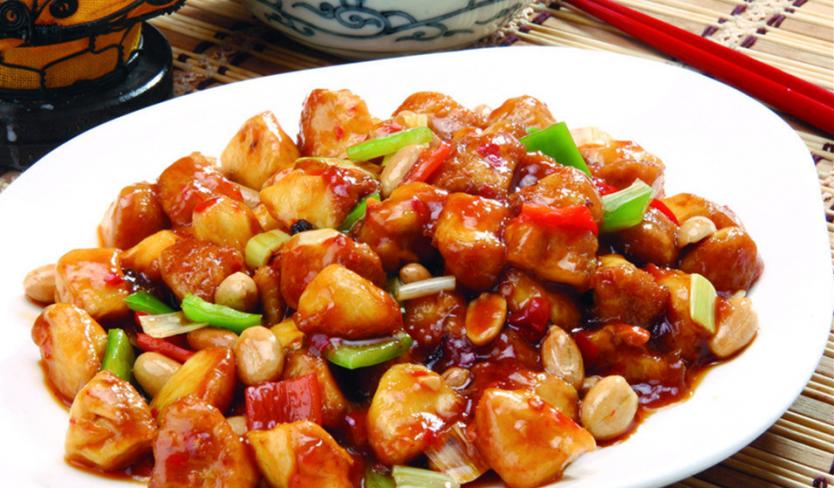 This is a famous Sichuan-style specialty, popular with both Chinese and foreigners. The major ingredients are diced chicken, dried chili, and fried peanuts. People in Western countries have created a Western-style gong bao chicken, for which the diced chicken is covered with cornstarch, and vegetables, sweet and sour sauce and mashed garlic are added.
Gong Bao Chicken
The History of Kung Pao Chicken
It is said that the dish was created by Ding Baozhen (1820–1886), a governor of Sichuan Province during the Qing Dynasty. He came from Niuchang Town, Zhijin County, Bijie City, Guizhou Province.
According to the legend, Ding Baozhen was very interested in cooking. He liked eating chicken and peanuts, and especially loved spicy flavors. He created a delicacy made of diced chicken, red chilies, and peanuts while in office.
It was originally a Ding family recipe, but as time passed it became a well-known dish. However, few people know why it is named Kung Pao…
Ding Baozhen was a good governor during his 10-year service in Sichuan, contributing a lot to the local people's wellbeing. So the Qing government conferred upon him posthumously an official title: Kung Pao (Wade-Giles romanization of 宫保 Gōng Bǎo 'Palace Defender'), which meant an officer who tutors the crown prince.
Gong Bao Chicken
Therefore, Ding's delicacy was named "Kung Pao chicken" to commemorate his great contributions.