Shangri-La Hotel Kuala Lumpur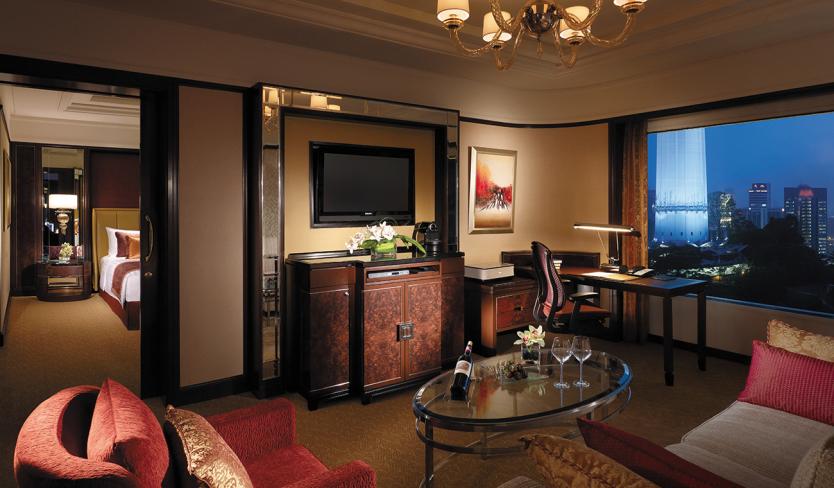 You wake up snug in downy soft bedding, with a serene view of the beautiful gardens and Kuala Lumpur Tower, as Malaysia's vibrant capital city bids you a fine morning. You feel relaxed and tranquil in the luxurious guestroom at Shangri-La Hotel, Kuala Lumpur.
Overview
Your day begins with a sumptuous breakfast at the hotel's Lobby Lounge. Satisfied, you head out to the confluence of the ancient Gombak and Klang waterways. The trip rewards with access to the trendy mercantile and fashion centres in the city's Golden Triangle.
After some quick shopping, you crave the perfect melange of the aromatic spices of Malaysian cuisine. The hotel entices your return with an array of dishes at the Lemon Garden Cafe's international buffet. You step into the restaurant and experience true Malaysian cuisine prepared by master chefs.
Service and amenities
The rest of the day is spent walking off your indulgent lunch. Absorbing the sights and sounds en route, you soak in the ambience of Kuala Lumpur.
You marvel at the fascinating juxtaposition between old and ultra-modern. The winding, meandering alleys of this city reveal hidden surprises. Energized by these experiences, sundown reveals a night still too young for you.
After a traditional Chinese dinner at Shangri-La's renowned Shang Palace, you unwind at Arthur's Bar and Grill with signature cocktails and fine wines.
For questions or suggestions, pllease feel free to let us know in the comments section and we'll do our best to reply to them as soon as possible. You can also share this article if you liked it!