The Empress Chiang Mai Hotel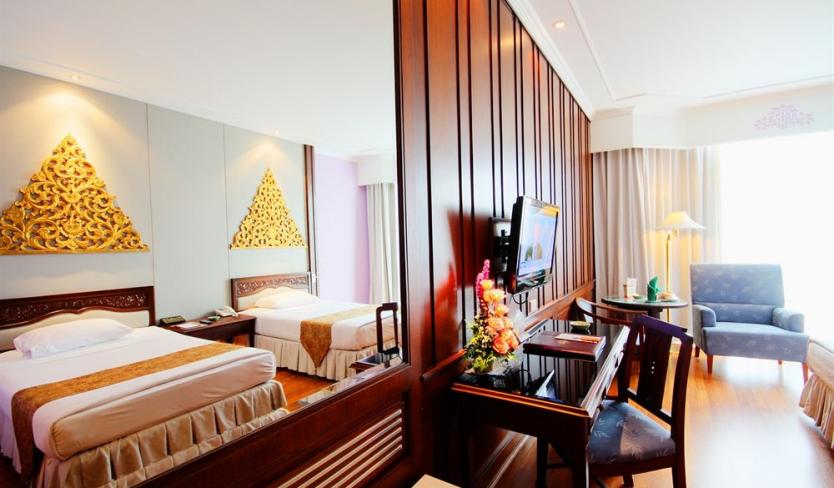 Luxury at the Heart of Chiang Mai
A four-star luxury hotel with a five-star standard, we are the first choice for long-term stay guests, families, and business travelers. Winner of Zoover Hotel Awards, Booking.com Guest Review Award, recommended by Trip Advisor and voted one of the top 25 hotels in Thailand. We are in quick distance of the Night Market, the Chiang Mai Airport, the Walking Market, the Chabad House, and the train station.
Accommodations
Superior: The Superior room offers intimately arranged accommodation with an eye for economy, ease, and classical northern Thai beauty.
Deluxe: Located on higher floors, the Deluxe offers luxury, comfort, and extra amenities. Available with carpeting or parquet floor.
Executive room: Executive rooms are located on the highest floors, equipped with state-of-art home entertainment and hand-crafted decor.
The Empress Chiang Mai
Restaurant
The Chao Nang is where we serve our world-famous breakfast spread that brings you the highlights of Chinese and Thai breakfast dishes, as well as sizzling bacons, a yogurt bar, a cereal corner and omlettes cooked fresh on the spot to your specification. Throught the rest of the day, the Chao Nang serves authentic Thai dishes, light dining, and fantastic cakes, pies and tarts from our very own bakery and pastry chef. All-vegetarian menu available for guests requiring special diets.
The Empress Chiang Mai
Conventions, Events, and Weddings
The only hotel in Chiang Mai with dedicated conference facilities. We can host events of all scale from 10 persons to 1,200 persons with parking spaces, technicians, experience catering, and event coordinators.
Source: https://www.vietnamtourbooking.com/en/package-tours/