Amphawa Floating Market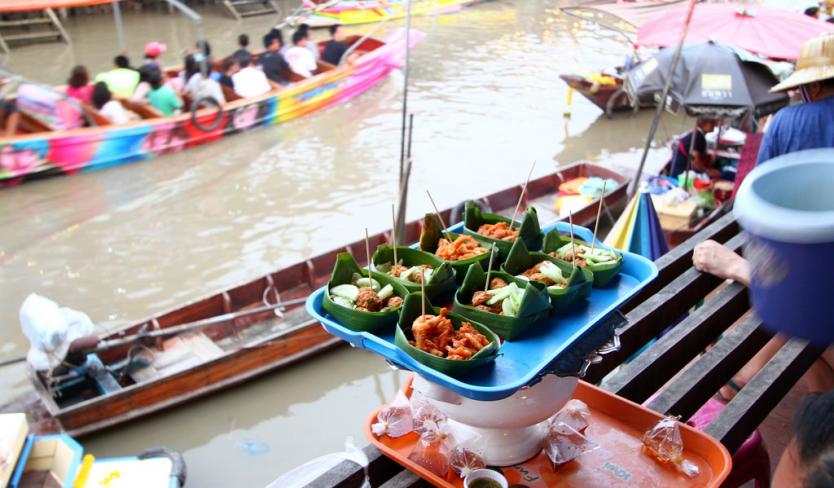 Amphawa floating market is located 50 km from Bangkok this once small village was apparently already present in the mid-Seventeenth Century. It has become such a magnet for Thai weekenders that food stalls have grown from the riverbanks and stretched far into the surrounding streets.
>> Unusual buildings in Thailand
Enjoy seafood
The main draw is of course eating seafood grilled procariously on wooden boats moored around the famous central bridge, serving an appetizing array of huge prawns, shellfish and squid. From noon until late in the evening, the smell is simply irresistible and customers flock to each side of the river all day long.
Amphawa Floating Market
Charming wooden shops
All along each side of the canal, old charming wooden shops sell Amphawa souvenirs, from the obvious T-shirt to some more interesting creations, and of course lots of sweets, snacks and ice cream - Thai people have a very sweet tooth and a passion for nibbling all day. In all streets radiating from the market you can find an incredible array of local food sold from small carts during the weekend only. Most food looks familiar but some really look unusual or even funny, from ice cream sandwiches to alien-looking helmet crab egg salad (Yum Magda Talay).
Amphawa Floating Market 1
Visit Wat Bang Koong temple
On the other side of the Mae Khlong River, Amphawa hides a very surprising temple called Wat Bang Koong, which you definitely shouldn't miss if you came all the way from Bangkok. The boat takes you first to a couple of temples, that are rather small but each have their own personality, such as surprisingly large golden seated buddhas, tall chedis and even small museum houses. It's not all that impressive but it's a good change from the crowds at Amphawa.