Ananda Temple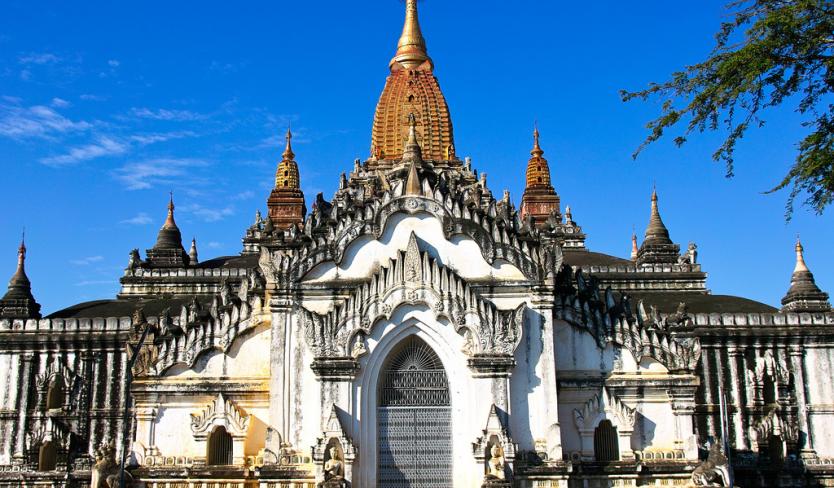 Ananda Temple is one of the four main temples remaining in Bagan. Ananda temple is considered to be one of the most surviving masterpiece of the Mon architecture. Also known as the finest. largest. best preserved and most revered of the Bagan temples. During the 1975 earthquake. Ananda suffered considerable damage but has been totally restored.
>> Mai Nha – A forgotten island in Phu Yen
>> Chi Hamlet – An attractive community-based tourism destination in Ha Giang
History
It is said to have been built around 1105 by King Kyanzittha. this perfectly proportioned temple heralds the stylistic end of the Early Bagan period and the beginning of the Middle period. In 1990. on the 900th anniversary of the temple's construction. the temple spires were gilded. The remainder of the temple exterior is whitewashed from time to time.
Ananda Temple
There is a legend saying that there were 8 monks who arrived one day to the palace begging for alms. They told the king that once. they had lived in the Nandamula Cave temple in the Himalayas. The King was fascinated by the tales and invited the monks to return to his palace. The monks with their meditative powers they showed the king the mythical landscape of the place they have been. King Kyanzittha was overwhelmed by the sight and had a desire for building a temple which would be cool inside in the middle of the Bagan plains. After the construction of the temple. the king executed the architects just to make the style of the temple so unique.
Ananda Temple
 Structure
The structure of Ananda temple is that of a simple corridor temple. The central square measures 53 metres along each side while the superstructure rises in terraces to a decorative cliff 51 metres above the ground. The entrance ways make the structure into a perfect cross. each entrance is crowned with a stupa finial. The base and the terraces are decorated with 554 glazed tiles showing jataka scenes (life stories of the Buddha) thought to be derived from Mon texts. Huge carved teak doors separate interior halls from cross passages on all four sides.