Banaue Rice Terraces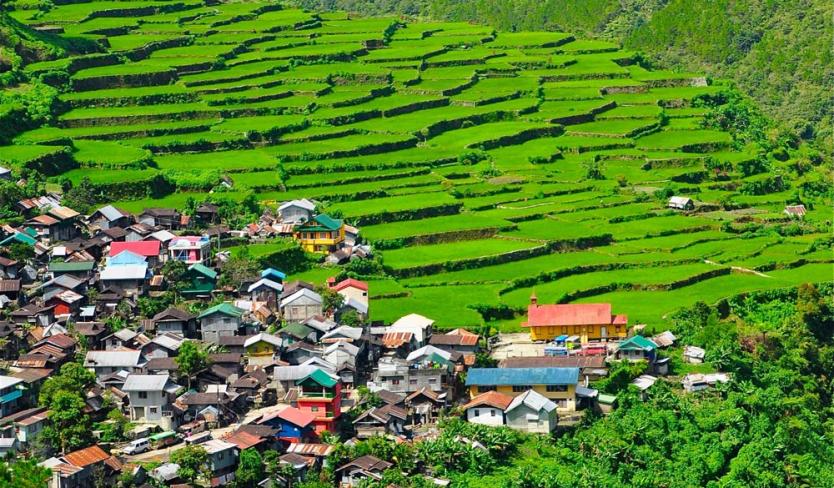 Referred to as the Eighth Wonder in today's Modern World by the Filipinos, the Banaue Rice Terraces are one of the Philippines' top tourist destinations. These terraces are said to have been carved into the mountains and hillsides by the ancestors of the local indigenous Ifugao tribes, and are 2-3,000 years old.
>> Halong Bay Overnight Cruises
Highlights and Features
The terraces are approximately 1,500 metres above sea level and occupy a total area of 10,360sqkm of mountainside. An ancient irrigation mechanism is responsible for watering the entire region, deriving its source from the rainforests located above the terraces.
Banaue Rice Terraces
If they were aligned from one end to the other they would stretch across half the globe. Solely due to the elaborate system of controlling and maintaining such a huge area, the locals deserve special recognition. While locals still engage in agricultural work on the terraces, the preferred mode of farming remains traditional, with a labour force.
Not only are the surrounding sights breathtaking and appealing, tourists, local and foreign, can experience various hiking trails found here. Besides, travelers can also mix with the friendly local tribesmen, who have their habitat at the foot of the mountains. Most of the young local people, who are generally college students, take up the responsibility of being guides.
How to Get There
There are various modes of transportation one can opt for to reach the Banaue Rice Terraces. One can choose the comfortable AC bus service that is available directly to Banaue from Manila. The bus terminal is located along Aurora Boulevard, Cubao, Q.C., and Dimasalang St., Sampaloc, Manila (Tel# 410-1991 & 731-2879).
Banaue Rice Terraces
Besides, you can also go for the buses to Banaue. These are available at terminals located at España Blvd corner G. Tolentino St., in Manila. The buses leave at 22:00, and reach the destination by 07:00 the next day. There are also direct buses for Banaue, from Baguio City.