Chi Hamlet – An attractive community-based tourism destination in Ha Giang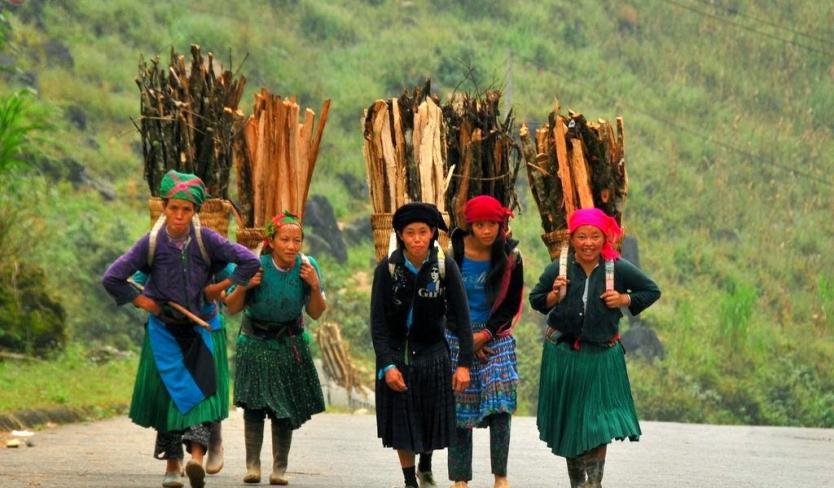 In the recent years, travel trend to ethnic minority villages has become popular, especially with international tourists and young people. Because of visiting there, tourists will discover unspoiled natural landscape and learn about many traditional culture features.
Grasping those needs, Quang Binh District (Ha Giang Province) has focused on developing community-based tourism type and encouraging the participation of local people. One of highlights is Chi Hamlet, Xuan Giang Commune, about 14 km from the center of Quang Binh District. With available natural potential and diversified traditional cultural identity of local people, the hamlet is developing gradually thanks to community-based tourism.
Chi hamlet >>
Mai chau tour
>> Dong Van Karst Plateau Geo-park
Specific cultural characteristics
Chi Hamlet is home to 4 ethnic groups, of which Tay ethnic people accounted 96% and the rest are Kinh, Nung, Dao people. The villagers still keep intact specific cultural characteristics. Those unique features are expressed from the design of stilt houses which back to mountains and face fields to interior decoration of bed room, altar, kitchen, living room and display of traditional living tools.
Ha Giang
Especially, Tay people have traditional brocade weaving craft. Skilled hands of Tay women created unique patterns in cloth, blanket, cushion which tourists choose as souvenirs. And to Chi Hamlet, tourists will take part in weaving brocade with Tay women and choose favorite patterns to embroider by themselves. Besides, tourists also can participate in many traditional games as tung con (throwing a sacred ball), ban no (shooting with crossbows), ca kheo (walking on stilts), day gay (pushing sticks) and many other games.
Natural sceneries
Apart from stilts houses, dances, festivals and rustic lives of the villagers, Chi Hamlet is also gifted amazing natural sceneries such as Ong But Slope, Lay Quang Lake…To here, tourists can see sunset, admire shimmering beauty of stalactites, or go fishing in stream, walk around Lay Quang Lake…
Community-based tourism type not only benefits for tourism industry, but also for local people. It helps people to increase their income and improve their lives. It also contributes to improving infrastructure as transports, electricity, water, communication network system, health, environmental sanitation…These are reasons to ethnic people in Chi Hamlet have more awareness of traditional culture values preservation for tourism development.