Dong Van Karst Plateau Geo-park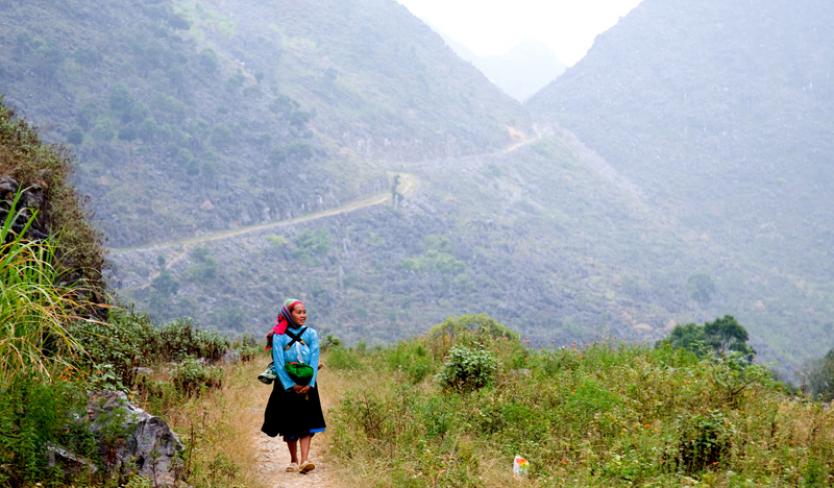 Located on an altitude of 1,000m-1,600m, belonging to 4 districts of Quan Ba, Yen Minh, Meo Vac, Dong Van (Ha Giang Province), the 2,350km2-Dong Van Karst Plateau is one of Viet Nam's special limestone areas, housing prominent imprints that depict the development of the earth's crust.
Up to 80% of the karst formations of Dong Van Plateau are limestone formed by environment conditions and different development stages of nature.
>> Hue's tile-roofed bridge a big tourist draw
Dong Van Karst Plateau Geo-park
Natural beauty
Thanks to weather changes and Dong Van's geo-diversity, the karst evolution has created "rock gardens" and "rock forests" of diverse forms in the area, such as Khau Vai rock garden (Meo Vac) where tourists can contemplate the peaks of rocks in the shape of different kinds of flowers, Lung Pu rock garden (Meo Vac) with animal-shaped rocks such as tiger and dragon, Van Chai rock garden (Dong Van) with round flagstones arranged like thousands of black sea lions leaning one another getting some rest on the beach.
Dong Van Karst Plateau Geo-park
However, the ranges of pyramid-shape mountains with sky-high rocky ascents are popular images making Dong Van Karst Plateau more majestic. The most typical one is Ma Pi Leng Pass area belonging to three communes of Pai Lung, Pa Vi and Xin Cai (Meo Vac District).
What to discover?
Tu San Canyon has a depth of about 800m, a length of 1.7km, cliff slope of 70-90o. Tu San is the deepest canyon in Viet Nam. Looking down Tu San Canyon from Ma Pi Leng Pass, tourists will admire spectacular beauty of mountains, deep green Nho Que River winding long pass foot, immense green corn fields or mossy stilt houses hidden in clouds and mountains... With unique geological, geomorphology values, Ministry of Culture, Sports and Tourism recognized Ma Pi Leng Pass as national landscape site in 2009.
A system of 100 grottoes in Dong Van Karst Plateau is also products of karst evolution and has became typical tourist sites as Rong (Dragon) Cave in Sang Tung (Dong Van), Kho My Cave in Tung Vai (Quan Ba), En Grotto in Van Chai (Dong Van)...