Hue – A Tourist Attraction In Vietnam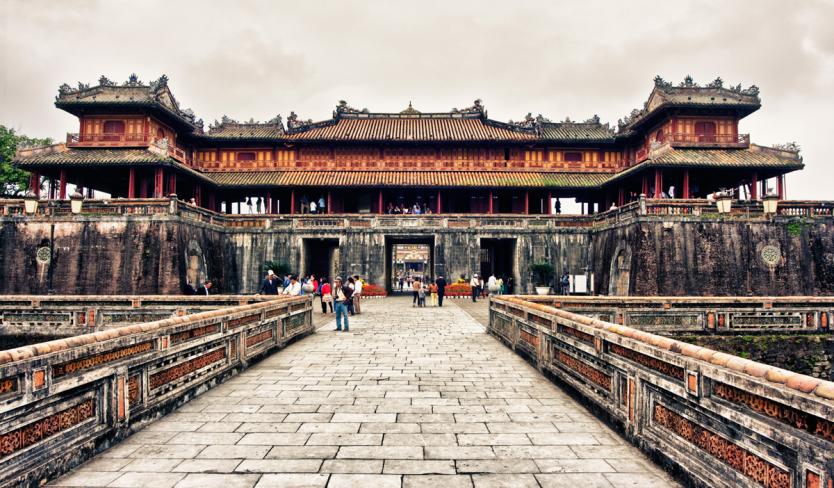 Located just over 600 miles south of Hanoi near Vietnam's South China Sea coast, Hue is known for its fortified Citadel and the Perfume River area with its many tombs and pagodas. Hue was the capital of Vietnam during the reign of the Nguyen lords from the late-18th century to the mid-20th century. Today, Hue is a small town consisting of the old fort and, across the river, a new town with small hotels and guesthouses.
Hue Citadel
Deemed a UNESCO World Heritage Site, Hue Citadel was a royal complex that housed the Nguyen lords of southern Vietnam. Building began on the Citadel in 1805 under Emperor Gia Long and took 27 years to complete. The Royal Citadel housed the Imperial City where sacred ceremonies took place, and the Forbidden Citadel is where the emperor's family lived and access to which was very limited to outsiders. Today, visitors can enter the Citadel at the Ngo Mon Gate. Royal relics from the Citadel are housed at Long An Palace, which is just outside the Citadel walls and open to the public.
Hue Citadel >> 
Vietnam student tours
Perfume River
Originating in the Truong Son and Truon Dong mountains, the Perfume River flows languidly through tropical jungles dotted with ancient pagodas and the tombs of several emperors. About 10 miles from Hue up the Perfume River, the tomb of the first Nguyen lord Gia Long, who united the northern and southern parts of the country for a time, and his relatives stands guard on a hill next to the river. The compound hosts grassy areas dotted with stele, stone statues, temples and tombs. The tomb of Minh Mang, another popular place to visit on the Perfume River, is about six miles from Hue. Built in the mid-19th century, the tomb complex houses palaces, temples, pavilions and statues.
Perfume River
Tu Duc Tomb
Nestled in a narrow valley forested by pine trees on Luu Khiem Lake about four miles from Hue, Tu Duc's tomb is one of the best examples of royal architecture from the Nguyen era. The lake shore hosts two pavilions where Emperor Tu Duc would come to reflect and read poetry. Beyond the towering gate, Hoa Khiem Palace was the Emperor's working palace and is now an altar dedicated to him and his queen. Up a slope through the Honor Courtyard, the Emperor's tomb is encompassed by a stone house and marked by a massive stone stele carved with his writings.