Mui Ne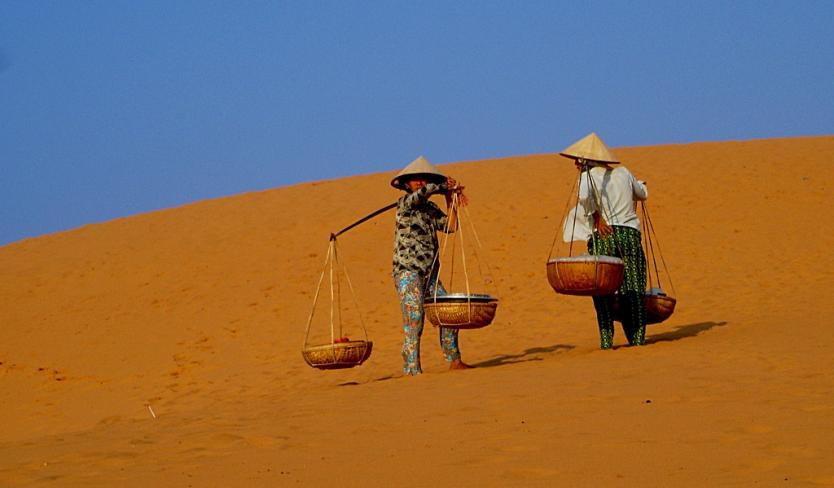 Mui Ne - a coastal resort town in the Binh Thuan Province of southeastern Vietnam is located on an arm of the East Sea (Bien Dong). It is 180km from Ho Chi Minh City or about 4 hours drive. The town is also 25km from the city of Phan Thiet. Tourism has transformed Mui Ne into a resort destination since 1995, when many visited to view the total solar eclipse of October 24, 1995.
Attractions in Mui Ne
Mui Ne Beach is a popular tropical beach. Strong sea breezes make it very popular for kite surfing and windsurfing. The tourist season is primarily from December to May. The average temperature is 27°C, and the climate is hot and dry for most of the year. Mui Ne sees only about half the rainfall of nearby Phan Thiet. The sand dunes help to protect its unique microclimate, and even during the wet season (from June to September) rain tends to be fairly light and sporadic.
Mui Ne sand dune
Mui Ne is famous for its enormous red and white sand dunes. These dunes have been a favorite subject for many photographers. The backdrop sees dramatic white sand dunes plunging towards a lake lined with lotuses. Venture across the dunes and marvel at this bizarre landscape. Slide down the dunes with local children on a plastic sheet; going down is easy, coming back up, not so!
Another point of interest is the Fairy Spring (Suoi Tien) which is really a stream that flows through a patch of dunes with interesting sand and rock formations. It's a beautiful trek wading up the stream from the sea to its source.
>> Hue – A Tourist Attraction In Vietnam
Vicinity
Heading west, Poshanu Cham Towers occupies a hill near Phan Thiet, with sweeping views of the town and a cemetery filled with candy-liked tombstones. Poshanu Cham Towers were considered as the hallmark of the prosperous Champa Kingdom, which thrived in this region from around the 7th century to 1832. On site are two towers in the shape of Linga and Yoni from the Hindu tradition and dedicated to the fire deity. There is also a temple where the buffalo deity Nandi was worshipped.
Poshanu Cham Towers
Essentially a congregation of fishing boats, the location of this floating village differs according to the season and when the winds change direction. From around May to October, the wind comes from the north and the fishing boats move to avoid the waves. Here, you can get a glimpse of small basket boats bringing produce to shore from larger fishing boats harbored out at sea. Every early morning, the men in the village come back with plenty of fish and other seafood on their boat, their ladies waiting at the station and ready to carry the day catch to the local market and sell.