Phong Nha-Ke Bang National Park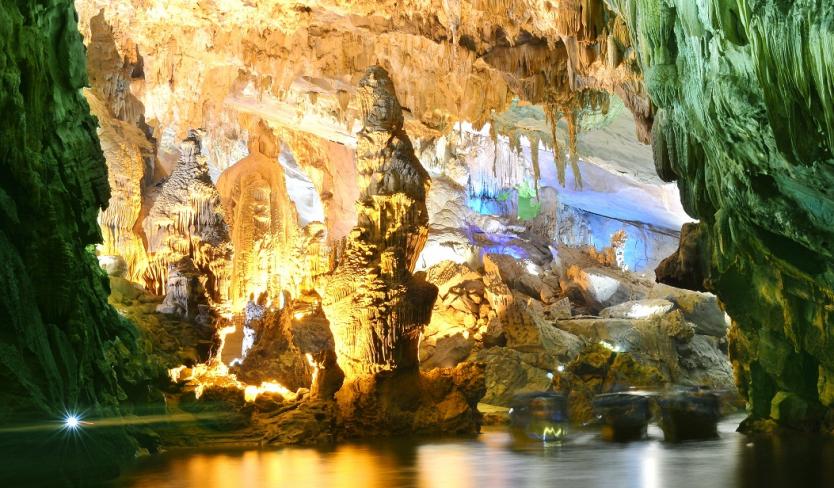 Phong Nha - Ke Bang - A World's Heritage
Designated a Unesco World Heritage site in 2003, the remarkable Phong Nha-Ke Bang National Park contains the oldest karst mountains in Asia, formed approximately 400 million years ago. Riddled with hundreds of cave systems – many of extraordinary scale and length – and spectacular underground rivers, Phong Nha is a speleologists' heaven on earth.
Serious exploration only began in the 1990s, lead by the British Cave Research Association and Hanoi University. Cavers first penetrated deep into Phong Nha Cave, one of the world's longest systems. In 2005 Paradise Cave was discovered, and in 2009 a team found the world's largest cave – Son Doong. In 2015 public access to two more cave systems was approved.
Phong Nha cave >> 
Vietnam travel packages
>> Cao Lanh – Dong Thap province
Breathtaking landscape
Above the ground, most of the mountainous 885 sq km of Phong Nha-Ke Bang National Park is near-pristine tropical evergreen jungle, more than 90% of which is primary forest. It borders the biodiverse Hin Namno reserve in Laos to form an impressive, continuous slab of protected habitat. More than 100 types of mammal (including 10 species of primate, tigers, elephants, and the saola, a rare Asian antelope), 81 types of reptile and amphibian, and more than 300 varieties of bird have been logged in Phong Nha.
Phong Nha - Ke Bang
In the past, access to the national park was limited and strictly controlled by the Vietnamese military. Access is still quite tightly controlled for good reason (the park is still riddled with unexploded ordnance). Officially you are not allowed to hike here without a licensed tour operator. You can, however, travel independently (on a motorbike or car) on the Ho Chi Minh Hwy or Hwy 20 that cut through the park.
The Phong Nha region is changing fast. Son Trach village (population 3000) is the main centre, with an ATM, a growing range of accommodation and eating options, and improving transport links with other parts of central Vietnam.
The caves are the region's absolute highlights, but the above-ground attractions of forest trekking, the area's war history, and rural mountain biking means it deserves a stay of around three days.