Pindaya cave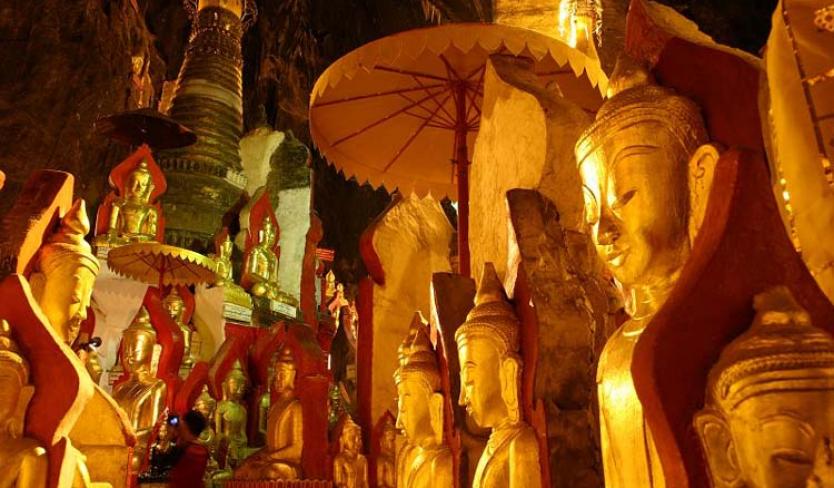 The Pindaya cave is set in a limestone hill in Central Burma not far from Inle Lake. The hill contains three caves, only one of which is open to the public. This cave that is about 150 meters long contains thousands of Buddha images in various styles and from different eras from the early Konbaung dynasty era to present day.
Pindaya cave >> 
Starlight cruise in Halong bay
Thousands of Buddha images cramped in the cave
It is not known with certainty when the first images were placed inside the cave, but the oldest ones bearing inscriptions date back to the Konbaung dynasty of the second half of the 18th century.
The Buddha images are in different styles, representing the various eras in which they were made. Many are gold plated, others are made from teak wood, marble, bronze or other material. Many are very small, some are life size.
Pindaya cave
Some smaller sections of the cave can only be entered by crawling in them. Some of these are used as meditation chambers that contain a smaller number of Buddha statues. Be careful when walking around in the dimly lit cave as the floor can get slippery. Handrails have been put up in parts of the cave, there are mats on the walkway.
How to get to the Pindaya caves
The Pindaya cave is located in the Shan state in Central Burma near the village of Pindaya and not far from Heho airport and Inle Lake. It is about 1½ hours or more drive over a very scenic road in the hills from Heho airport, depending on road conditions and weather.