Unusual buildings in Thailand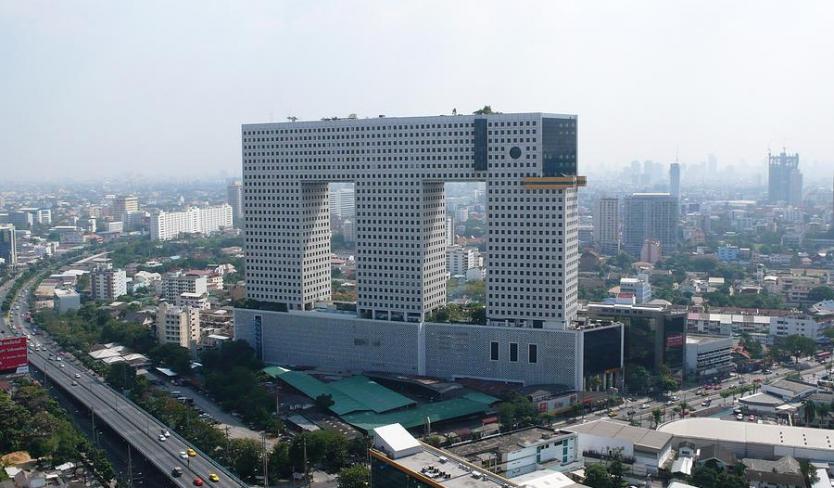 Bangkok is also well-known as "Angel city" and its vibrant wonder is worth a visit. Growing at fast rate, Bangkok boasts a large range of upscale hotels, hipster bars, rooftop café and skyscrapers. Once there, this dynamic city offers so many things to thrill on and chill out that you may have less time for rest. If you are a photography lover you can't fail to miss to see quirky buildings in this city. Just capture the scene and you will have an extraordinary picture to show on Instagram, for sure.
Elephant building
An elephantine landmark in the Chatuchak district, the Elephant Tower is one of the most unique buildings in Bangkok. The three towers make up a shape of Thailand's national animal, which can be seen even from the Expressway. On the right edge of the building you can also see an eye and tusk. The building is used as a condominium, office space, and also houses a language school.
Elephant building
Giant Dragon Tower at Wat Samphran
Located well outside Bangkok, this unusual temple is worth mentioning with its giant dragon coiled around the red 17-storey tower. The head of the giant dragon is clearly visible from from a distance, but the temple is located near the highway and most people don't take much time to look around. The temple grounds are rich in decorations, statues of animals and more dragons. It's hard to spot, but it's worth it.
Dragon tower
Robot Building
First opened in 1986, the 'robot building' is located on South Sathorn Road. According to the architect, the original inspiration for the 20-storey building came from his son's toy robot. Complete with 'eyes' and 'antennae', the building's quirky characteristics masks the fact that the elements of the exterior design serve real purposes. For instance, the oversized 'bolts' and 'caterpillar wheels' act as sunshades and canopies.