Wat Ounalom in Phnom Penh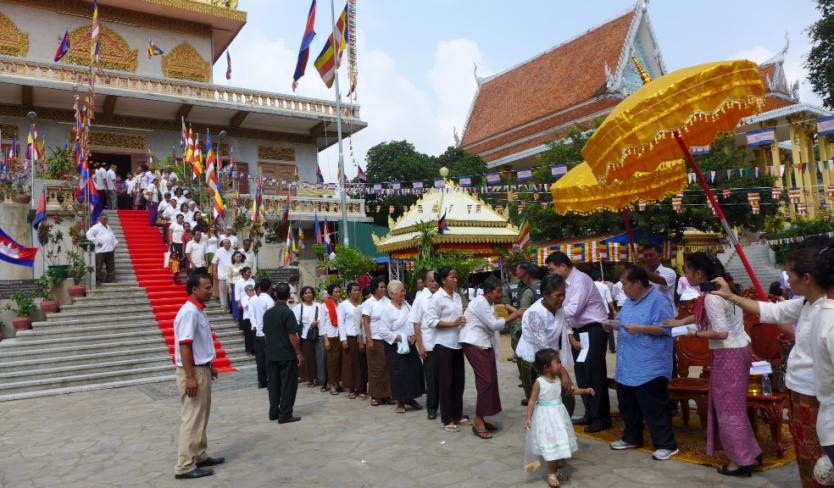 A visit to Wat Ounalom allows insight into the spiritual teachings, philosophies and history of Buddhism in Cambodia. Perhaps the most prominent and oldest of five pagodas in the country, Wat Ounalom is the centre of Cambodian Buddhism and serves as the abode of the Patriarch of the Mahanikai School of Buddhism.
As the name indicates, King Ponhea Yat - meaning 'Eyebrow Temple' - was built in 1443 to enshrine an eyebrow hair (ounalom) of Lord Buddha, and the shrine was once home to more than 500 monks as well as the Buddhist Institute's library that held in its collection over 30,000 titles. But the Khmer Rouge from 1975 to 1979 caused serious sabotage to the Wat's valuable cultural artifacts and book collection as well as taking away the lives of the majority of monks who lived there during this period.
Visiting Wat Ounalom
Nevertheless, Buddha's eyebrow miraculously survived and is still the focal point of the Wat. Later, Wat Ounalom provisionally housed the Buddhist Institute, prior to its shifting to a much larger area on the Sihanouk Boulevard in 1999.
Good to know about Wat Ounalom
Tucked away in a quaint setting, Wat Ounalom consists of a cluster of 44 buildings. Erected in 1952, the main temple is the modern recreation of the original shrine that was constructed in the 15th century. It is spread over three levels and has to its credit an interesting collection of magnificent paintings and cultural relics that throw light on the life of the Lord Buddha.
Samdech Huot Tat
Found behind the main temple is Chetdai – the 500-year-old stupa, where Lord Buddha's eyebrow hair is preserved. Dating back to the Angkorian era, this amazing stupa is also striking for its four bronze images of Buddha in sitting posture, each of which faces a cardinal direction. Additionally, the walls that bound this ancient stupa are graced with several figures of Hindu gods – the most significant being the image of Lord Vishnu, Garuda the mythical bird, and Lord Yama on his buffalo.
Another highlight of Wat Ounalom is the image of Samdech Huot Tat - the fourth Buddhist patriarch who was executed during the Pol Pot era. It is placed at the main temple's northeast corner. Further, the monastery of the Supreme Patriarch is seen to the north of the main temple. Above all, the serene, natural surroundings of this Wat are as endearing as its collections and features.