5 Tips to Ride a Tuk-Tuk in Bangkok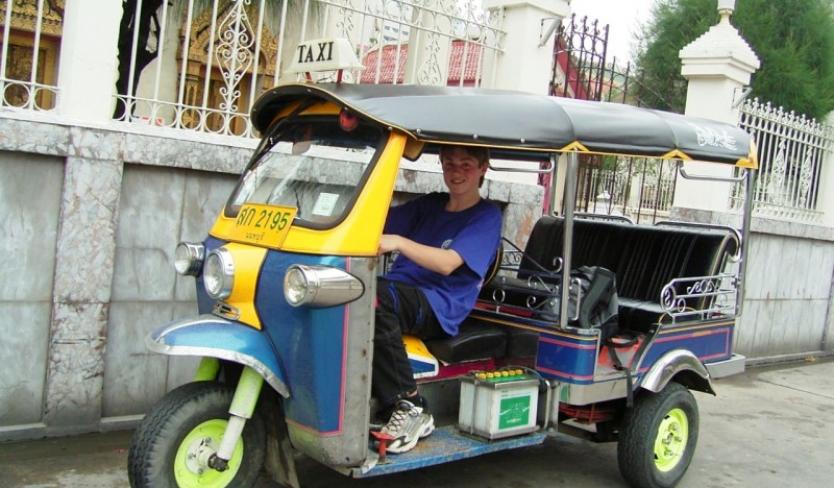 Tuk-tuk or 'sam lor' (three-wheeled) used to be everyone's favourite way of getting around Bangkok before the BTS, MRT and colourful taxis took over. Originating from an old-fashioned rickshaw during the second World War, a tuk-tuk is essentially a rickshaw with a small engine fitted in.
Tuk-tuks have become one of Bangkok's most recognisable transportation features, and are still popular among tourists and visitors. Riding a tuk-tuk is more of an experience rather than a practical way to get around. So, if it's your first time in The Big Mango, there's no harm in giving it a go.
Tuk-tuk in Thailand
>> Best 10 Tips To Travel In Thailand
5 Tips to Ride a Tuk Tuk
Fares vary, depending on the distance travelled, the time of the day, the traffic, and the mood of the drivers. Normally a very short trip will cost 30 baht.
Fare negotiating and haggling is a must because the price named by the driver is always an 'inflated rate' (especially if you're a tourist). The trick is to negotiate 5 - 15 baht off the proposed fare, and take it from there.
Be careful of the 'mafia' tuk-tuks around touristy areas, who often boasts privileged knowledge of 'secret' or 'special' shopping places and things. Some of them may offer sightseeing tours and unsolicited help to take you places. A short and sweet "no, thanks" will save you from their scams. The same rule applies to taxis.
Tuk-tuk in Thailand
Avoid taking a tuk-tuk during peak hours (07:00 - 09:00, 16:00 - 19:00). You don't want to be stuck in traffic for hours, sweating and breathing in the hazardous fumes from engines all around you.
Tuk-tuks are most ideal for short trips. Sometimes it would cost the same, or even cheaper, to take a cab to the same destination, but it will go a lot faster.