Kitesurfing in Bali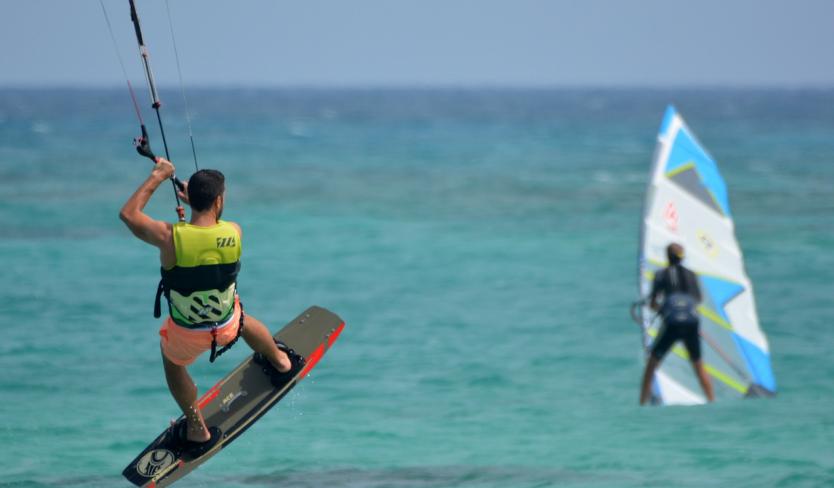 Kitesurfing in Bali might not be as popular as regular surfing, but it certainly brings your wave riding thrills to the next level. Categorised as an extreme water sport, it combines surfing as we know it with some elements of wakeboarding (using a similar shaped board) and bits of kite-flying to the overall drill. With some practice, Kitesurfing – also referred to as 'kiteboarding' – lets you speed over waves instead of paddling out and waiting for the perfect swell.
Kitesurfing in Bali
Best Kitesurfing Spots in Bali
The best coasts for kitesurfing in Bali includes some of the regular surfing beaches. This takes into account the waves between Sanur's southeast facing Mertasari Beach and all the way down to Tanjung Benoa and Nusa Dua. On the island's west are the beaches of Seminyak and Canggu.
Kitesurfing in Bali
Sanur (Mertasari Beach). Provides almost constant flows of onshore winds and flat water near the shoreline. Best for beginners.
Tanjung Benoa and Nusa Dua. Considered Bali's primary marine water sports playground, with waves and winds similar to Mertasari. However, can get crowded due to the variety of recreational activities here.
Seminyak. Far north from the Kuta crowds. Fairly good for beginners, with waves broken against hard summer winds. Also fun for intermediate to advanced riders.
Canggu. Waves here are bigger; great for advanced riders and those who fancy fun aerials. Waters also usually cleaner and with side-offshore winds in the dry season (May to September).
Kitesurfing Lessons in Bali
Proper kitesurfing gear consists of the board, control bar and harness, helmet and wetsuit, and the kite itself which is akin to a parachute. These are mostly available at the surf school and included in your course. Lessons are usually structured to suit your own needs, and most times includes introductory and practice sessions onshore with a trainer kite designed to help you get the hang of catching the wind and manoeuvring.